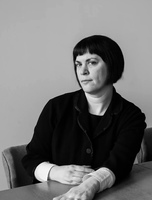 Sara (L) Smith creates speculative documentary performances and other works which traverse dance, visual art, writing, and historical research. Sara is invested in creative practices which explore the poetics and politics of embodied research. Her work takes the form of books, installations, sound, and videos, but most often live performance, which she values as a communally transformative space. From 2010-2017 Sara edited KINEBAGO, a forum for writing by and about New England dance makers and movement researchers.
Sara is a recent recipient of the Massachusetts Cultural Council Fellowship award in Choreography, and has also received support for her work from The LEF Foundation, New England Foundation for the Arts, Maine Arts Commission, Mary Duke Biddle Foundation, and residency fellowships from The MacDowell Colony, Yaddo, Hewnoaks, and The American Antiquarian Society.
Sara has collaborated with other performing and visual artists as an artist, director, choreographer, writer, and dramaturg, including Karinne Keithley Syers, Gina Siepel, Adam R. Levine, Kathy Couch, Polly Motley, Candice Salyers, Chris Yon, and Roger Beebe. Smith holds a BA in visual art and dance from Hampshire College, an MFA in dance from Sarah Lawrence College, and a Masters in Library Science from Simmons College. Sara's work has been seen and heard at venues throughout the U.S., including Amherst College, A.P.E. Gallery, Brooklyn Arts Exchange, Catch!, The Chocolate Factory, Danspace Project, Duke University,
Experiments in Cinema,
Galapagos Art Space, Green Street Studios, HERE Arts Center, Hollins University, Joyce SoHo,
Ladyfest Los Angeles,
LaMaMa, Mount Tremper Arts, the San Francisco International Film Festival, SPACE Gallery, The Puppet Lab at St. Ann's Warehouse, Tufts University, Vermont Performance Lab, and Ur.